Ion Illuminator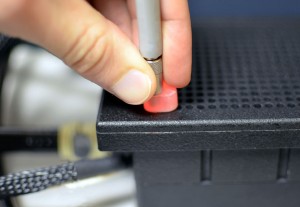 The Ion Illuminator Emission Spectra Analyzer is a portable device for routine performance validation of the TipCharger cleaning station from IonField Systems. A QC check can be run in less than 5 minutes to confirm the TipCharger is functioning at optimal plasma generation, without the need to run an assay. The Illuminator verifies plasma generation in individual wells of the TipCharger by measuring light intensity from the largest Nitrogen emission peak, which is proportional to plasma generation. Data output from Illuminator is in text format which is easily transferred into a spreadsheet or a lab's quality control software.* Download Ion Illuminator Users Guide.* The Illuminator requires a PC with USB port and Excel or other spreadsheet program.
Ultrasonic Pre-Clean Station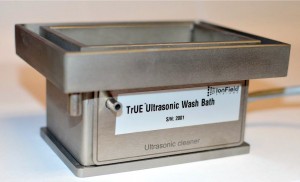 Designed for heavy lipid-based solutions and macromolecules that cling to pipette tips, the Ultrasonic Pre-Clean Station uses high frequency sound waves in a water bath to effectively remove all traces of large molecules before entering the TipCharger. This is especially useful for plant-based assays that typically have residual 'gunk' buildup on the tips that can be seen with the naked eye.
For other countries, please Contact Us.